BBF presents a series of interviews with Belarusian players and coaches, which tell stories about how basketball appeared in their lives and what place it took. Our today's hero is Maksim Salash, one of the leaders of the Belarusian Men's National Team and BC «Tsmoki-Minsk».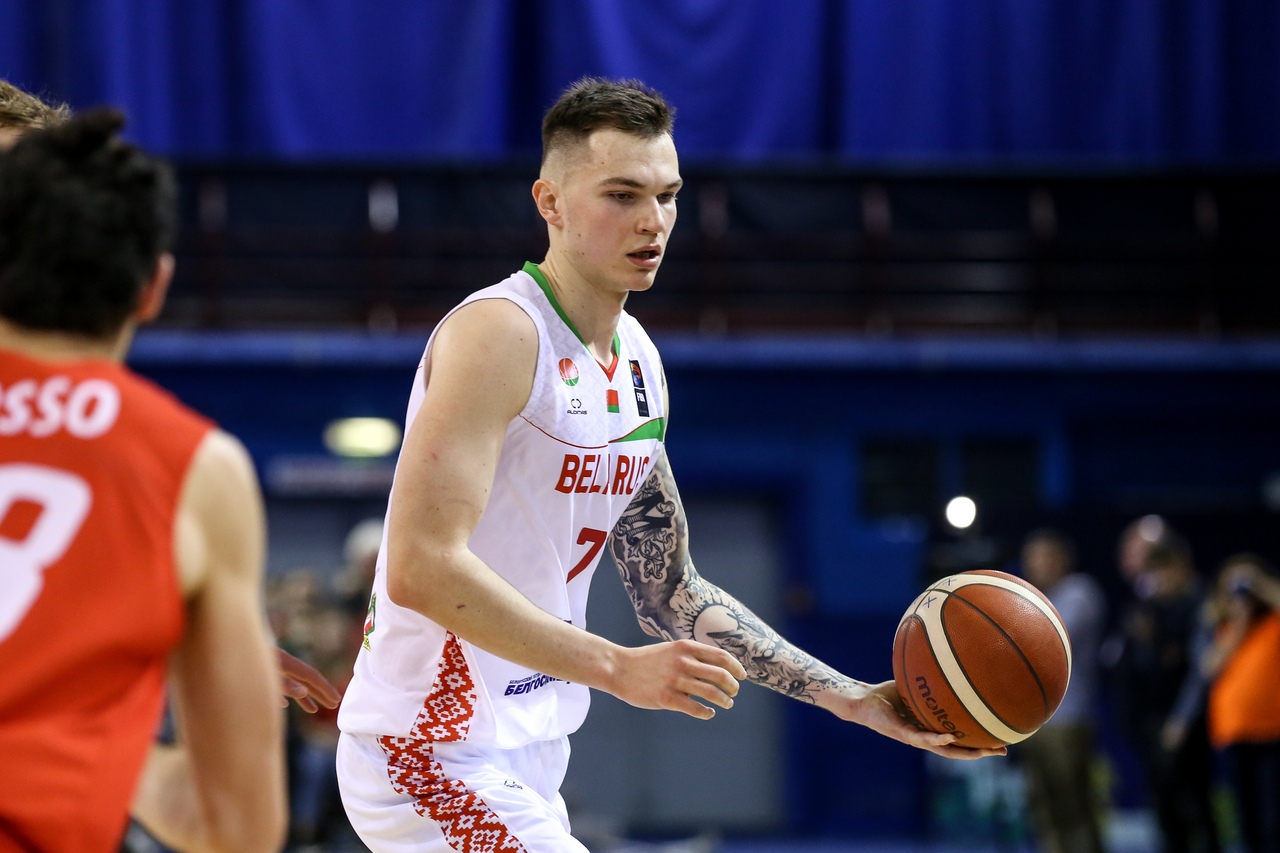 *Maksim Salash on FIBA World Cup 2023 Pre-Qualifiers game Belarus – Portugal. February, 2020*
How did it all start?
Before entering the basketball section, I had a chance to try my hand at chess, which I did from the age of 6 to 10. I must say that I was really good at it, because even then I fell just short of fulfilling the standard of a candidate for master of sports. Then for a short period of time football appeared in my life, and I must admit that I really liked it. However, this sport still attracts my interest as a fan. Moreover, my best friend Vladislav Klimovich is a professional player, who plays for Dinamo Minsk. Therefore, I constantly follow the events not only of world football, but also I am interested in how things are going in our national championship. I got into basketball for a simple reason: I was a tall guy, so everyone around me was telling me to try it. This is how I ended up at the «Minsk-2006» kids sports school when I was 11. That's how it all started.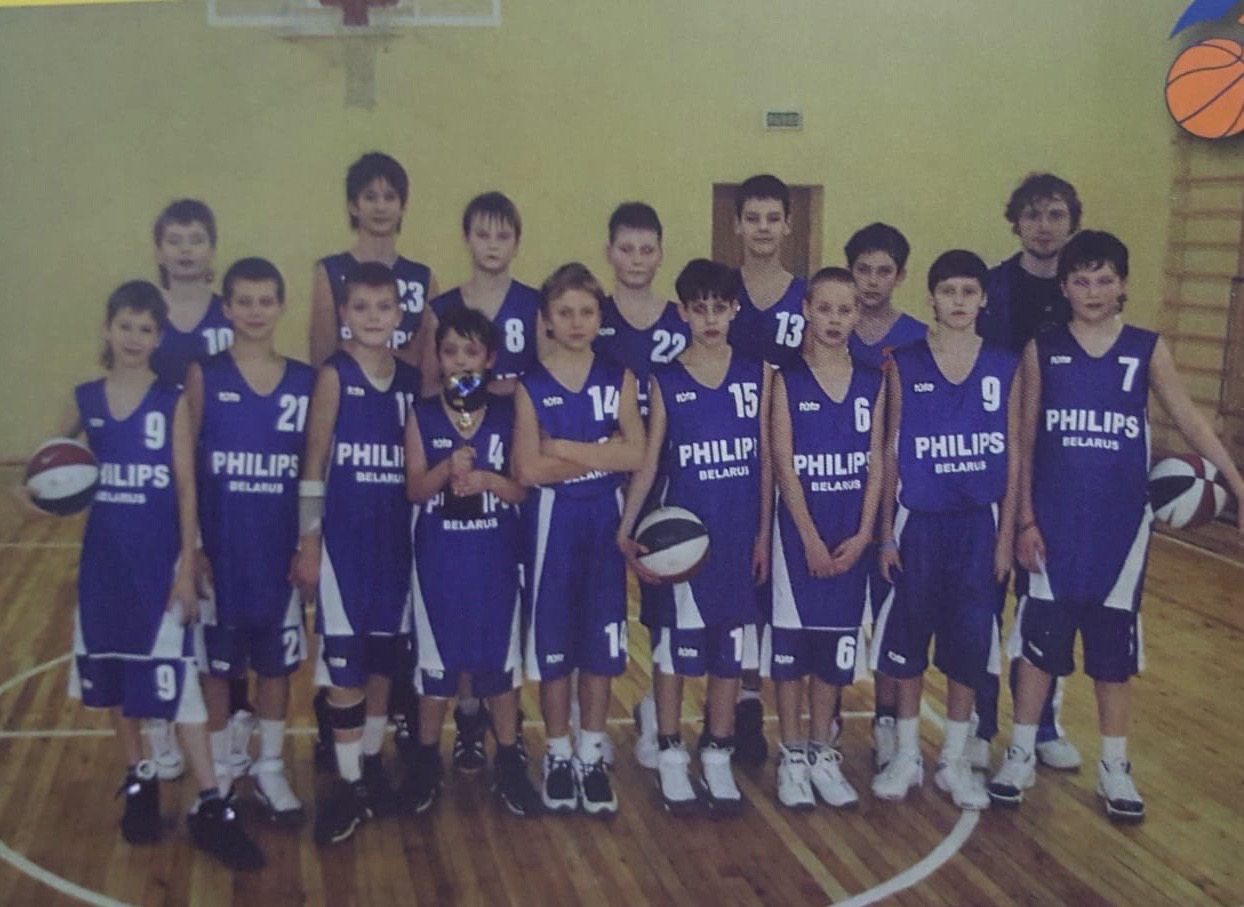 *Maksim Salash with his young teammates, 2008*

First coach
My first coach was Sergey Kryukov. Under his guidance for two years, I was able to learn all the technical game basics. Also, thanks to his approach and the ability to provoke interest during the classes, I really got into basketball.
Departure to Spain
I left for Spain at the age of 16, where I studied and trained at the Сajasol academy. I spent my first season abroad for the youth team there. In a short time I managed to learn Spanish, plus at that time I already spoke good English, so I did not experience any language barrier difficulties. The academy brought together young basketball players from all over the world, as well as local players. Despite our different mentalities, we quickly became friends and, after that, a team. For me, this period was not only extremely useful professionally, but also played a big role in my development as an adult and independent person. In total, I spent three and a half years in Spain, having managed to play for clubs Cajasol, Huesca and Ourense. I always recall with warmth that time and the people who formed my inner circle then.
*Career in Spain, 2014*
Competitions that I'll remember for a lifetime
During my first season in Spain, in 2013, my team and I won the opening stage of the Junior Euroleague, which was held in Italy. I will always remember the emotions and feelings that I experienced at that moment.
When I realised that basketball is more than just a hobby
Even before leaving for Spain, I spent a season for the second team "Tsmoki-Minsk" and played with the team in the European youth basketball league. That very summer, I took part in U16 European Championship (Division B) in Bucharest and began receiving offers from agents to continue my career. That's when I realised that basketball could become my profession, and not just a hobby.
Basketball idols
Honestly, I can't say that any particular one was my idol. It is more correct to note that the game of such masters as Kobe Bryant, Shaquille O'Neal and Dwayne Wade to some extent influenced me in the course of my development as a professional athlete. It was these basketball players and their game that motivated me to develop and strive to become stronger as a professional.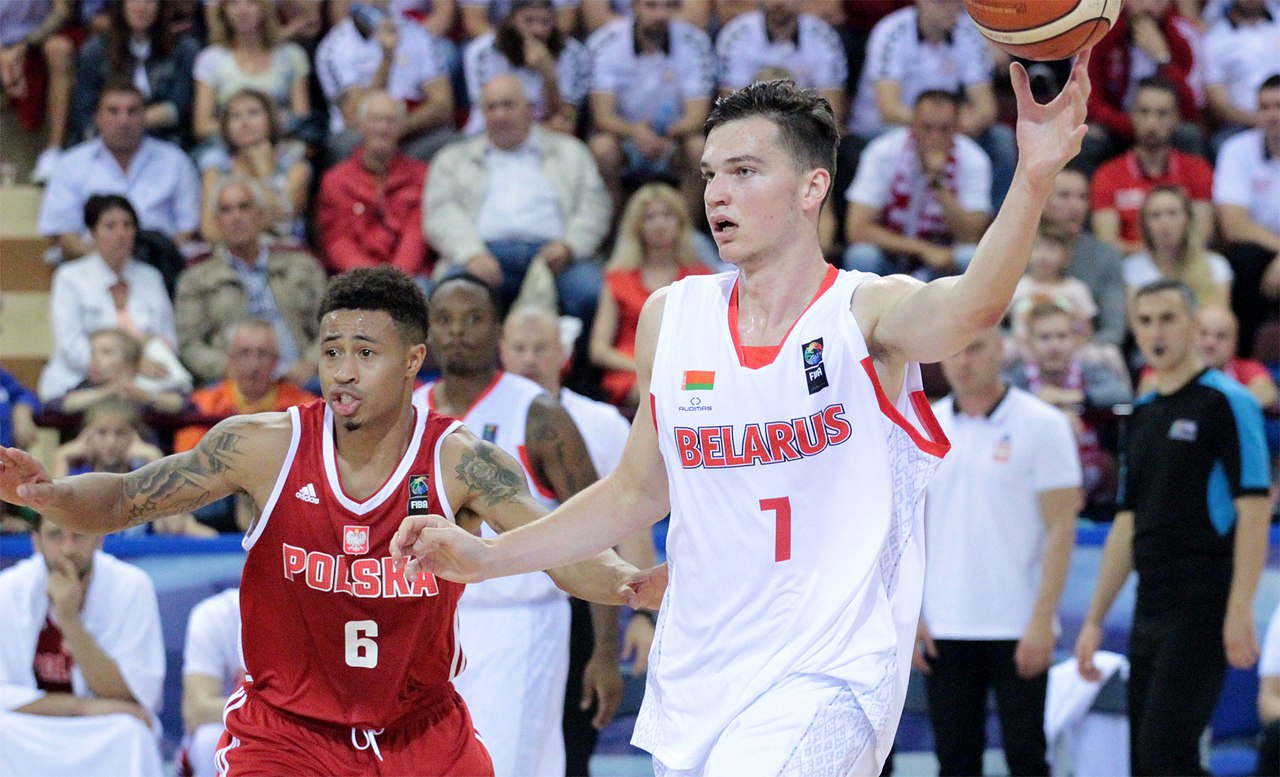 *The first game for Men's National Team of Republic of Belarus, 2006*
The first game for Men's National Team of Republic of Belarus
I made my debut in the Belarusian Men's National Team in 2016 as part of the Eurobasket-2017 Qualifiers game against Poland. The game was held in Minsk at the Sports Palace, which added additional responsibility and excitement. Unfortunately, we lost, but in any case I managed to feel like a part of the main team of the country and feel the support of the fans who came to the arena that night.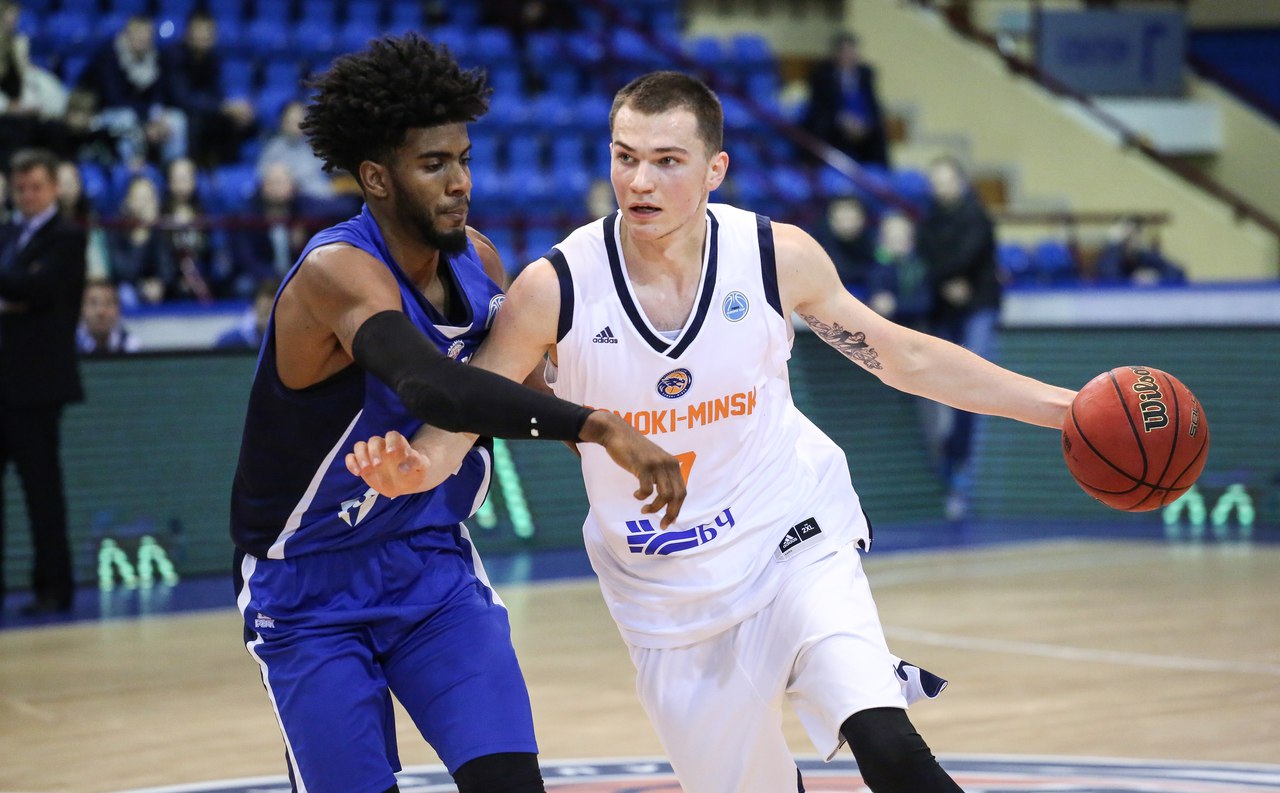 *The debut season for Tsmoki-Minsk, 2017*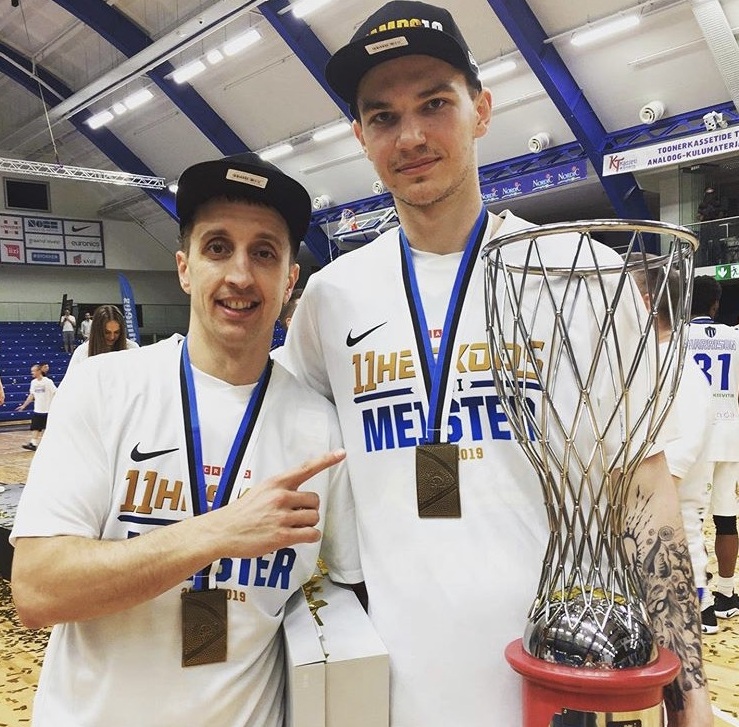 * Together with Branko Mirkovich after a triumph in the Estonian championship, 2019*
Return to Minsk
In the summer of 2017, after spending a season in the Polish team "Kutno", I received an offer from "Tsmoki-Minsk". At that time, it was probably the best option to continue my career. The prospect of playing in the VTB United League and FIBA Champions League, the opportunity to train with national team partners, plus my return to Belarus – all these factors played a crucial role in making the final decision. At the end of the 2017-2018 season, I decided to try myself as a legionnaire again and left for Estonian «Kalev». Despite the fact that the coach Donaldas Kairis, who worked with the team at that time, did not always give me enough playing time, I still do not regret the time I spent in Tallinn. After a one-year contract expired, I came back to Minsk, where I received a great credit of trust from the «Tsmoki» and the Belarusian national team coach, Rostislav Vergun, who, of course, helped me to believe in my strength even more and reach a more stable playing level.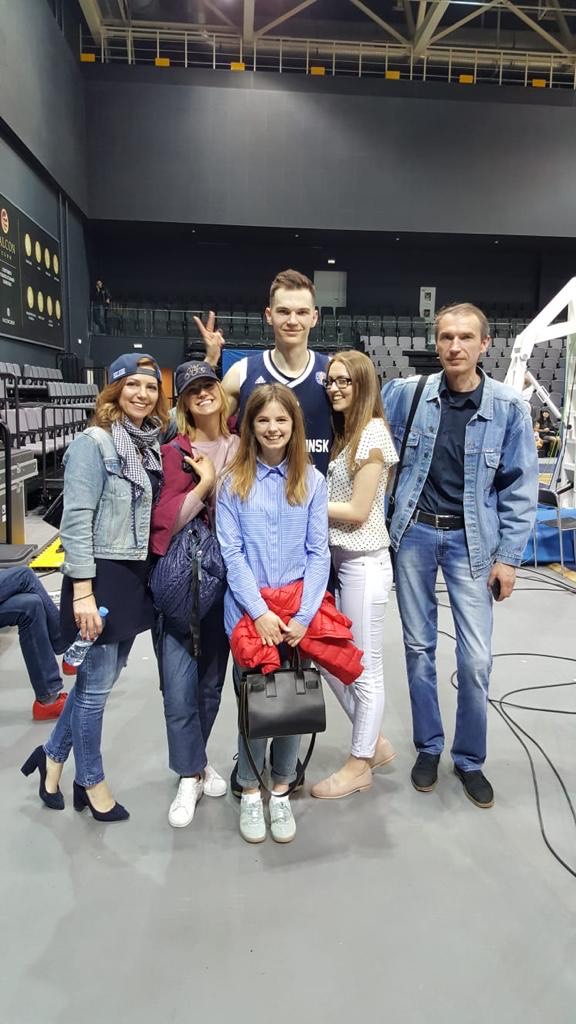 *Photo with parents and bride after the Tsmoki game, 2018*
The most loyal fans
From the very first children's competitions and throughout my career, my parents have been always supporting me, not only by coming to matches, but also outside the court. When I was about to leave for Spain at the age of 16, my mother and father understood the decision and always believed in me and my strength. Since I started playing for Tsmoki, they have had the opportunity to come to matches in Minsk regularly and support the team. Over time, another person was added to the list of loyal fans - my fiancee Alena, who always supports me and is happy for my success. And, of course, friends who attend the «Tsmoki» games and national team matches whenever possible, or root for us watching TV.
Being a bookworm
In my free from training and games time, I prefer to read good books. In general, such a pastime for me has long been the best rest - so I distract myself from physical exertion and expand my horizons. I read a lot, and most often I prefer to read in English, which allows me to constantly improve my knowledge of it and not forget my existing vocabulary. I can't immediately name my favourite book or author, but from recently read books I really liked the bestseller "Airport" by Arthur Hailey.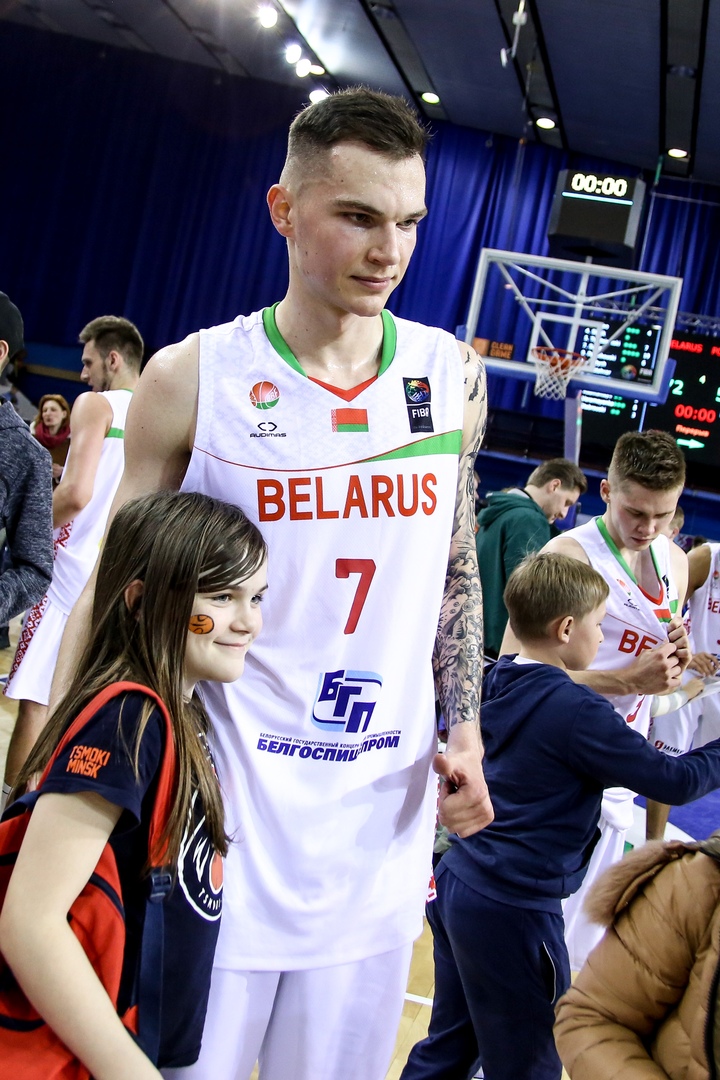 *Maksim Salash with a young fan after a winning FIBA World Cup 2023 Pre-Qualifiers game Belarus – Portugal, February 2020*
Why is basketball the best sport?
I wouldn't say that, I also love football! But basketball is an integral part of my life. It's a great success for every person to do one's favorite business, especially when it's also one's profession. I believe that our sport, along with other types of it, gives athletes the opportunity to become a truly cohesive team, teaches them to find a common language and support each other, as well as to try to reach the same goal together. All these skills are very useful in everyday life.